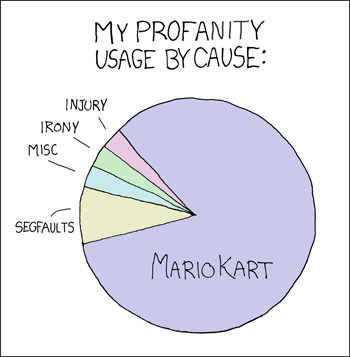 So...
xkcd
wins for this one. If I had a successful webcomic for every time I cursed Princess Peach to hell for throwing a blue shell at me at the finish line...
In other news everyone should
read this
article in
Wired
about the Penny Arcade guys because I internet love them and you should too. Read
this one
too.
Is it just me or does the
Harvey Birdman
: Attorney at Law
game
sound like a lot of fun? Hello wishlist!
Speaking of wishlist, at
IGN
you can put in your list of games you own and games you wish you owned.
Collection
.
Wishlist
. I'm a little disappointed with my own list. I thought I had a lot more games. It has also re-fueled my long time life goal of owning a used game store in the spirit of
Funcoland
. I am officially boycotting Gamestop and EB Games since they are the same horrible overpriced entity. Plus they no longer sell SNES games. I would encourage--implore-all gamers to do the same.
The popularity of Rock Band and Guitar Hero is starting to scare me a little. I'm not even going to link those because I assume everyone out there is already intimately familiar with them. On A
Daily Show
,
Colbert Report
,
Conan O'Brien
, and who knows where ever else they all mentioned that the writers play these games during breaks or that the remaining staff play them in the office while the writers are gone (presumably they are borrowing them from the writers). It's just a bit scary how popular the games are.
If you missed the
Conan mention
, it's hilarious.
All I need to know about the game is that
it blends
.